Yes, I was, once again a Dude-of-Leisure, both with and without Gary, on 1/11/07 in NYC at the Beacon Theater show. Here's the story:
Since Bryan's gig was less than a klick from my nyc studio/pad, I felt it was time to play '
ambassador to ny
' and so I e-mailed ahead, and was at the stage door when the band arrived. BA knew that I would be around, and he told me I was always welcome. It had been oh, 18 months since I'd last seen him, at Coney Island, Brooklyn, NY.

Anyway

, after saying hi to Mickey Keith Gary and Bryan on the street, I walked up Broadway to find my lady, and the musicians went upstairs to the dressing rooms at the Theater. A bit later, we were sitting around with Gary, Mickey, the hilarious Norm, and Keith upstairs before the show, and Bryan pokes his head in (he had a TV interview to attend to) and says 'Tom would you like to play Lonely Nights with us?' I said '

Sure

!' so they inserted that song on the set lists, before 'Summer of 69', after 'I Think About You'. Me and the

Lady

are sitting behind Jody watching the show, and when 'Back to You' starts, I go up to the inside door which leads up to the stage (they loaned me a tour pass to be sure I could get backstage during the show) and Don points me to Gary's keyboard tech, he gives me a headphone/monitor pack, I snap it on my belt, and go out there. And instead of 'Lonely Nights', Bryan starts 'Summer of 69 ! (cuz i guess that was the normal sequence of events.) So I'm out there already, the fans are happy, and Gary says, 'Stay out here and play - which do you want: piano or organ?' So i say '

B3

!' and off we went - we both played that one, Gary on piano, me on organ.
It was great fun, and really strange too, like a part of me wasn't really there - it felt like a paradox... hard to explain.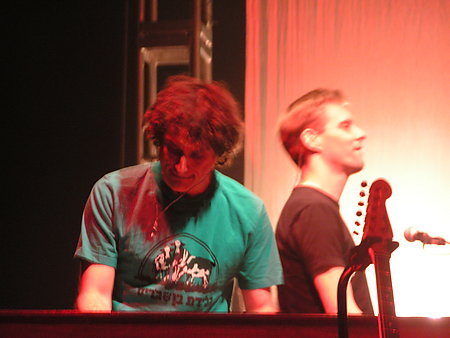 Not be
cause there were 2 of us there playing at the same time, but just cuz of me being back in what felt like another lifetime (ooo-Time Travel!!!) yet natural. (I mean think of all the 'practice' I had over the years - no wonder!) But, strangely, the

lights

were very different than I remembered - t'was

definitely

a super-great light show too. I think the fact that the lights were DIFFERENT, may have been one reason why it felt other-worldly. . . Not like being on Pluto, but maybe like Mars or the

Moon

.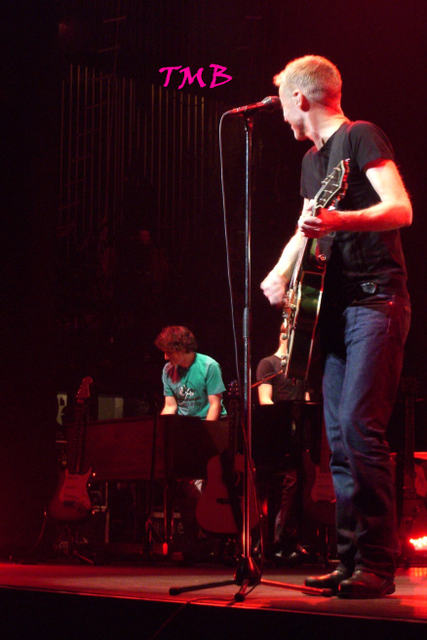 Anyway after '69', Bryan announces both of us, then says 'Here's a song me and Tommy recorded at The Power Station in NYC' (or something like that) and Handsome Gary took a 1 song break and I played with the old boys on 'Lonely Nights'. No mistakes! Gary's a tall guy, so his reach is very wide, and to reach way over to the 'sweet' octave of his synth with my left hand, and still be able to play the high notes on the Hammond with my right hand, was a pretty big stretch! I had to slink down a bit, which was fun - a new

Tommy

-dance position.
And I have to say, the crowd was up on their feet for the whole show - a real warm NY, NY welcome. Bry said it was his first NYC show in 12 years, so I guess I had played the previous one too - 1994? With Def Leppard at Madison Square Garden maybe, for Z-100. Or was it that hot little Town Hall gig after a TV show? Who knows!
After playing, I went back to Gail, my Lady, in the hall, she

smiled

. (and watched the rest of the show from our seat behind Jody's mixing board.) By the way, the

sound

was AmAzInG ! (Great mix, Jody!) The group do a really cool new thing during "It's Only Love", especially Keith and Mickey. Check it out if you can, live. Then after the show, went upstairs and ate with the boys. Talked some more with Gary, he gave me some interesting info about the German Synth company, Waldorf, which evolved from Wolfgang Palm's

legendary

PPG synth of the 80's, (T. Lavitz of the Dixie Dregs had one, when, on another Two-Keyboarders-Experience, he and I played on a Nils Lofgren CD...) Gave Mickey our traditional

hug

. He sounded better than ever too, btw. At the evening's end I sat with Keith, reflecting on the total experience, and he told me picturesque stories about the band's recent trips to the Middle East and Serbia - fascinating travels and tales. Nearly the last ones to leave, we 'hit the street' just in time for Bryan and Keith to talk to fans and sign millions of autographs in the cold night air, and me to sneak away, and walk back up the street to my place, full of memories and

energy

.
End of story, fun fun fun.

photos- courtesy of bryan's fans - Karen Petersen and Teresa Bodziony - thanks, dudes!
back to where we were before